Temperature chamber is ​also named climatic test machine has standard products, providing a variety of sizes, we can meet your needs. Our environmental test box is usually used for steady-state stability test, basic temperature cycle and accelerated stress test. In order to meet the needs of all kinds of customers, we designed these temperature and humidity test rooms, which have compact external structure and maximize the internal workspace.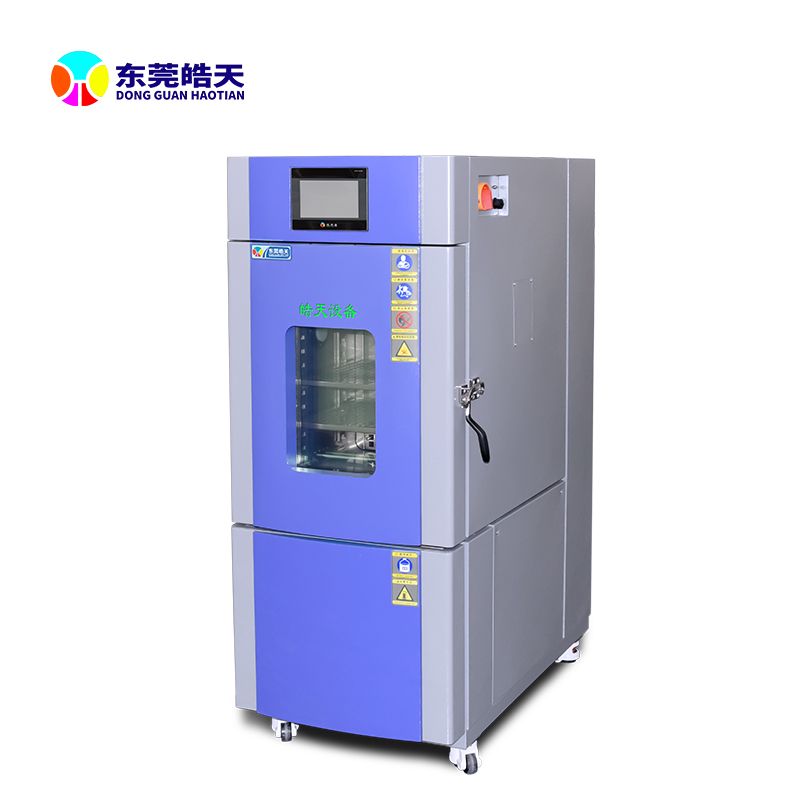 Stratospheric design; Prevent the top of the test from dripping.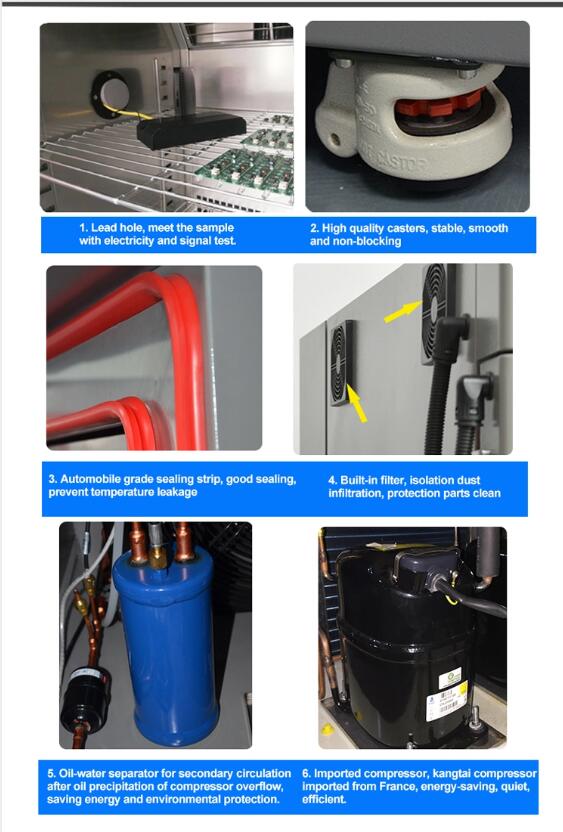 Excellent temperature uniformity, high test precision.
​
Specific parameters
Model

SMC-80PF

SMC-100PF

SMC-150PF

SMC-225PF

Temperature series

A:0℃~+150℃, B:-20℃~+150℃, C: -40℃~+150℃, D: -70℃~+150℃.

Size

Internal chamber size(cm)

40x40x50(W*D*H)

50x40x50(W*H*D)

50x50x60(W*D*H)

50x60x75(W*D*H)

External chamber size(cm)

67x112x151(W*D*)

72x112x151(W*D*H)

77x122x161(W*D*H)

77x131x180(W*D*H)

Performance

Temperature range

-40℃~+150℃

Humidity range

10%~98%RH

Indication resolution

0.01℃, 0.1%RH

Deviation

±1.0℃, ±2.5%RH

Heat up time

About 30min from+20℃ to +150℃

Cooling time

+20℃ ~ -20℃≦30min

+20℃ ~ -40℃≦55min

+20℃ ~ -70℃≦75min

Materials

Structural material

External: Anti-rust treatment cold rolled steel plate spraying;

Internal: SUS#304/316 steel stainless.

Insulating material

Rigid polyurethane foam with flame retardant.

Refrigerate system

Refrigerating material

France Tecumseh compressor +Finned type all copper evaporator + air cooled condenser.

Cooling agent

R404A, R23(The United States Dupont HFC series environmental refrigerant.)

Compressor refrigerating capacity

1.5P

1.5P

1.5P

3P

Controller

Import TEMI series 7" touch screen temperature humidity instrument.

Electronic apparatus element

The France Schneider industrial control products.

Electronic control

Heating/Humidifying

Nickel complex heater/SUS#304 jacket type humidifier.

Circulation fan

Macro-axis motor + Steel stainless wind rotor.

Fault alarm devices

Compressor over current, over pressure, overheating, lack water protection, heater no wind empty burn protection, humidifier lack water dry burn protection, leakage protection, over-temperature protection.

Water

Pure/deionized water

Power

AC 1 Φ220V 50/60Hz; AC 3 Φ380V 50/60Hz

Max. current

AC220V

18.5A

18.5A

18.5A

28.0A

Others

Specimen holder *2pcs,

Leas hole silicone plug *1pcs,

Toughened defogging glass *1pcs.

Customization

Customized according to customers' requirements are available.
​